Polar bear family wakes up in oil construction site (video)
A polar bear mother and her cub wake from hibernation to find an oil construction site has been built around them as they slept. Built by the Italian oil company, Eni, the firm says they had no idea the animals were there. Work stopped and a biologist visited the site taking this footage. Once the mother and cub left, work returned on the site.
Polar bears are threatened by declining sea ice due to anthropogenic climate change.
Recent news on the polar bear:
Disappearance of arctic ice could create 'grolar bears', narlugas; trigger biodiversity loss

(12/22/2010) The melting of the Artic Ocean may result in a loss of marine mammal biodiversity, reports a new study published in the journal BNature and conducted jointly by the National Oceanic and Atmospheric Association (NOAA), the University of Alaska, and the University of Massachusetts. The study is the first to project what might happen if species pushed into new habitats because of ice loss hybridize with one another, resulting in such crossbreeds as "narlugas" and "grolar bears".
(12/17/2010) Once thought of as a doomed species, new research published in the journal Nature and conducted by scientists from several institutions, including the National Science Foundation and the U.S. Geological Survey, finds that polar bears could be saved from extinction – if certain measures are taken.
Polar bears are newcomers on the world stage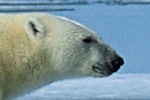 (03/01/2010) One of the most well-known animals, the polar bear, is a newcomer on the world stage, according to research published in the Proceedings of the National Academy of Sciences. By studying the DNA of an ancient polar bear jawbone uncovered in 2004 in Norway scientists have for the first time pinpointed the time when the polar bear split from its closest relative, the brown bear. "Our results confirm that the polar bear is an evolutionarily young species that split off from brown bears some 150,000 years ago and evolved extremely rapidly during the late Pleistocene, perhaps adapting to the opening of new habitats and food sources in response to climate changes just before the last interglacial period."