Activism: save Southeast Asia's last major primary lowland rainforest
Note: as a news organization, mongabay.com does not endorse the action below, but believes its readers may be interested in taking action or discussing the issue further.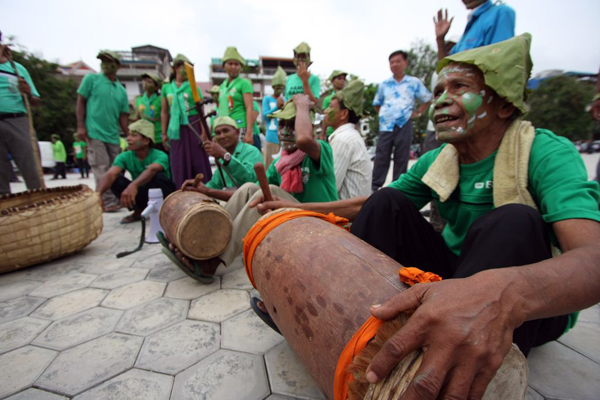 Villagers from Prey Lang forest area rally in Cambodia's capital against continuing destruction of their forest. Protestors dressed as 'avatars' to gain more attention to their plight. Photo courtesy of: Prey Lang Network.
Cambodia's Prey Lang forest is one of Southeast Asia's most important rainforests. Much of the forest has never been logged even though as as a lowland rainforest it should have been one of the first to see the axe. It sustains startling biodiversity including popular animals such as tigers and elephants, and provides vital resources to the surrounding communities. Yet, the Prey Lang forest remains unprotected and the forest is being handed over to corporations for clearcutting piece-by-piece. Locals are working to stop the destruction, but they face an uphill battle, including threats to arrest and intimidation for protesting. For Prey Lang to be protected, pressure may need to come from abroad as well as locally.
According to the petition: "Prey Lang is the last large primary forest of its kind on the Indochinese peninsula. Inclusive of seven distinct ecosystems including unique primordial forest, Prey Lang's biodiversity is exceptionally high, including almost 40 endangered plant and animal species. As a primary watershed, regulating water and sediment flow to the Tonle Sap Basin, and as an important spawning area for fish, Prey Lang is vital for Cambodia's long-term environmental sustainability and people's food and water security. With among the highest carbon sequestration values in the region, it is a powerhouse for fighting global warming. About 200,000 people, mostly indigenous Kuy, live around the forest and our dependent on it for their livelihoods and culture."
Prey Lang Forest petition: Help Save Cambodia's Prey Lang Forest.
For more information on Prey Lang:
Photos: Cambodians rally as 'Avatars' to save one of the region's last great rainforests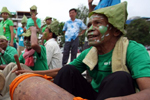 (05/31/2011) Two hundred Cambodians rallied in Phnom Penh last week to protest the widespread destruction of one of Southeast Asia's last intact lowland rainforests, known as Prey Lang. In an effort to gain wider media attention, protestors donned dress and make-up inspired by the James Cameron film, Avatar, which depicts the destruction of a forest and its inhabitants on an alien world. The idea worked as the rally received international attention from Reuters, CNN (i-report), MSNBC, and NPR, among other media outlets.
Cambodians prevented from protesting destruction of their forest

(03/10/2011) Cambodian villagers fighting to save their forest from rubber companies have been rebuked by the local government. Two days in a row local authorities prevented some 400 Cambodian villagers from protesting at the offices of the Vietnam-based CRCK Company, which the villagers contend are destroying their livelihoods by bulldozing large swaths of primary forests. Authorities said they feared the villagers would have grown violent while protesting.