Eats, shoots and leaves, an essay on giant pandas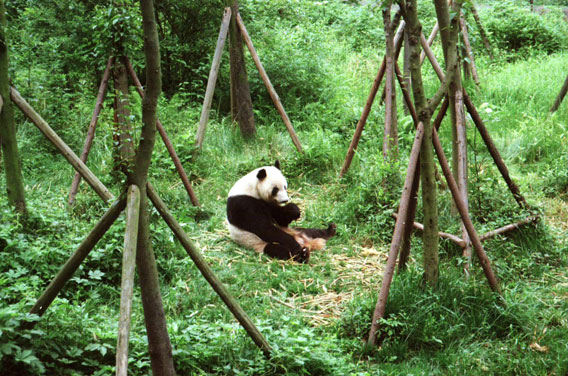 Giant panda in Chengdu in South Western China. Photo by: Shubhobroto Ghosh.
By: Shubhobroto Ghosh
Please note : The opinions expressed in this article are those of the author and not representative of the viewpoints of any organization.
"We have to remember that what we observe is not nature herself, but nature exposed to our method of questioning" – Werner Heisenberg, Nobel Prize winner in Physics (1932) in Physics and Philosophy (1958).
Among the hundreds of images and descriptions of what is possibly the cutest living animal, the giant panda, one particularly sticks in my mind, the anecdote about an animal that goes to eat in a restaurant. The animal looks at a dictionary lying on the table and finds the entry on giant panda saying : "Giant Panda – Bearlike animal found in China. Eats, shoots and leaves." The animal takes out a revolver slung around its waist, shoots in the air twice, startles customers and leaves. The epithet is meant to serve as a lesson in English language syntax. It is not known if real Giant Pandas raid restaurants for food or carry revolvers around their waists, but there were plenty of offerings connected to this animal during a recent trip to China.
When I heard that my participation in a conference on animal protection was confirmed in early June 2011, I drove everyone around me and the organizers into a tizzy because I spoke of nothing but giants pandas till the time I actually landed in China. I forgot about everything else apart from the obsession to see a live giant panda in person, the symbol of World Wildlife Fund that is meant to serve as a beacon for conservation worldwide. I harried my co passenger Rohit Gangwal, of a wildlife protection group from Jaipur named Raksha that we would rush for the zoo as soon as we set foot in Chengdu in South Western China.
No sooner had the plane landed that my giant panda dream erupted vociferously and made me impatient with each passing moment. Rohit put up with a lot of unreasonable demands from me and sacrificed a well earned rest to accompany me to the Chengdu Zoo. We went in and the first signboard that caught my eye was that of the giant panda. My heart was racing at the prospect of seeing the animal alive, but the first sighting was disappointing to say the least. I came across a sleeping animal with his bum pasted to a glass pane. But it was a sighting after all and my excitement remained all the same as I ran to the other end of the enclosure only to find a second animal inside in a similar position. I was riveted anyway, and waited for the animals to wake up and almost ignored the smaller and just as cute red pandas eating lunch in an adjacent enclosure. I could have waited for eternity just to see the animals awake, but time was not of the essence and I had to move on.
Chengdu Zoo is a large one and the commentary I had heard prior to my visit had not been very charitable. And it did appear in real life that the facility lived up to the rather checkered reputation it had garnered for itself. It is a large facility, by any standards and the grounds are quite beautiful and tastefully decorated but what you see inside the enclosures really do depress you. Most large animals are in small, unfurnished enclosures that do not provide them any enrichment in their lives. And large animals there are many.
Among the notable large mammals displayed at Chengdu Zoo are white rhino, Asian elephant, lions, tigers( some of them white), northern lynx, giraffe, takin, addax, scimitar horned oryx, Pere David's deer, Bactrian camel, chimpanzee, orangutan, sun bears and moon bears. Some of these species were seen by me for the first time and although it is always a thrill to see a new animal species, the enjoyment is compromised by the fact that they are in small barren enclosures that offer them little privacy. Among the more disturbing facets of the zoo are a cockatoo fed and being made to perform tricks by the public, a pony and a Bactrian camel huddled in small pens and turtles, goldfishes, hamsters and rabbits in tiny cages to be sold outside the zoo gate. It was also disconcerting to see live animals being fed to reptiles in the reptile house and a very distinct overcrowding in the aviaries.
Chengdu Zoo is an astonishing place for birdwatching with light vented bulbuls and rufous capped babblers flitting around everywhere. The zoo has been helped by Animals Asia Foundation in instituting better enrichment measures for their inmates and this is an endeavor that ought to continue.
It would be remiss of me not to mention my parting memory of Chengdu Zoo because they involve giant pandas. It was nearing closing time when I cajoled Rohit to accompany me for a final glimpse of the sleeping beauties. And lo and behold! They obliged by sitting upright in front of us, munching their bamboo sticks, the classical giant panda pose that has beguiled many a conservationist and the general public in countries throughout the world. It was indeed a sight to cherish and I stood like a statue for half an hour savoring the animal going about its dinner. It was an unforgettable sight, but I repeat that the giant pandas in Chengdu Zoo are not in the best of conditions. Their dens are featureless and they are forced to be in public gaze, and although this is how I managed to see the mythical creature for the first time, I would rather have them getting access to their outside enclosures (filled with greenery and of a modest size) for twenty four hours a day. The irony is heightened by the fact that the zoo has loudspeakers in front of the giant panda enclosure playing songs like, "I see skies are blue….." Well, the skies are maybe blue but in a coop, it is certainly not a wonderful life for the inmates and this practice ought to be stopped in the facility.
Part of my dream realized, I returned to the hotel feeling satiated and replete with memories of the day. Friends and colleagues from across the world were met and accosted and courtesies, pleasantries, hugs and kisses exchanged. Some of them whetted my appetite for seeing more giant pandas by showing me pictures of the animals in the famed Chengdu Giant Panda Research and Breeding Base (winner of the United Nations Global 500 Environmental Award).
So another round of desperate requests and pleadings followed and this time I found three companions to visit the place : Arvind Sharma from Himachal Pradesh, Sashanka Dutta from Assam and Jiban Das from Orissa. The Giant Panda centre does make you feel the magic of the natural habitat of the animal. The moment you enter, you well and truly imbibe the spirit of the Giant Panda and evoke memories and descriptions of the animal as portrayed by George Schaller, Desmond Morris and the French missionary Pere David who is credited with having brought this creature to the notice of Westerners (This element of discovery has a dubious aspect that is increasingly being taken note of by many).
There are several trails that lead one to different enclosures housing the animals. The first one only revealed a sleeping animal and a specimen ambling in the bush far away. But again, luck was on our side and just as we were about to depart for another enclosure, one animal came walking within visible range and started feasting on bamboo. Again the classical pose, and the cameras started clicking. I guess one can never ever tire of seeing a Giant Panda in that position, the cuteness of the animal is extraordinary. The animal, due to its neotenic features spontaneously solicits a bond and connection bordering on profound spirituality. Observing the animal in his home country, in his home state, in surroundings that do approximate the wild state although the animal is in confinement, does fill one with a sense of awe and respect. The sight of a living giant panda can make even the most hard nosed scientist or biologist forget objectivity. As many field biologists are now tending to acknowledge, it is well nigh impossible not to get emotionally involved in the lives of individual animals that one observes as part of a study, the compassionate component is as important as the scientific element.
There are many young giant pandas on display in the Chengdu centre and there are always hordes of people ogling over them. The centre has 96 giant pandas under its custody, 22 of them loaned to zoos in China and abroad. I had the great good fortune of having a personal session with Sarah Bexell, head of Conservation Education at the Giant Panda Center. Sarah demonstrated many conservation initiatives that have been instituted in Sichuan province to help protect this animal in the wild by taking into account needs of the local populace.
Although this article is principally about giant pandas and my absolute and childish fascination for seeing an animal in flesh that I had read tomes about, the narrative would be incomplete without paying a tribute to the Animals Asia Foundation founder Jill Robinson and her energetic team at the Moon Bear Rescue Center in Chengdu. I had the privilege of visiting this place with several luminaries of wildlife conservation and welfare and can state unequivocally that it stands out as one of the best captive animal facilities I have seen anywhere. Here, bears that have endured a lifetime of abuse in captivity in bear bile farms are accorded a second chance to live.
But I must get back to the pandas, especially because I also saw the beautiful and cute red pandas at the Giant Panda Center in Chengdu. I saw only one animal, clambering through the dense foliage and his scarlet pelage seemed as brilliant and attractive as the piebald colouring of his larger cousin.
The most enduring image of the symbol of World Wildlife Fund remains a cliche, but one I do not resent writing. An animal sitting upright, holding its food in its pseudo thumb, eating shoots and leaves. The imagery given by the animal in the restaurant anecdote is well justified in real life on all grounds.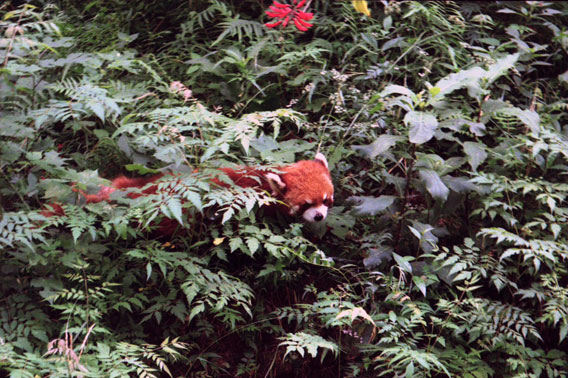 Red panda in Chengdu in South Western China. Photo by: Shubhobroto Ghosh.
About the author: Shubhobroto Ghosh is a former journalist for the Telegraph newspaper whose work has also been published in the Times of India, New York Times, The Statesman, The Asian Age, and the Hindu. He has worked on conservation issues in India and UK for several organisations and was project coordinator of the Indian Zoo Inquiry project. He did his Masters thesis on British zoos. He currently works in the NGO sector and maintains a keen interest in environmental issues.