Photo: abused cheetahs returned to the wild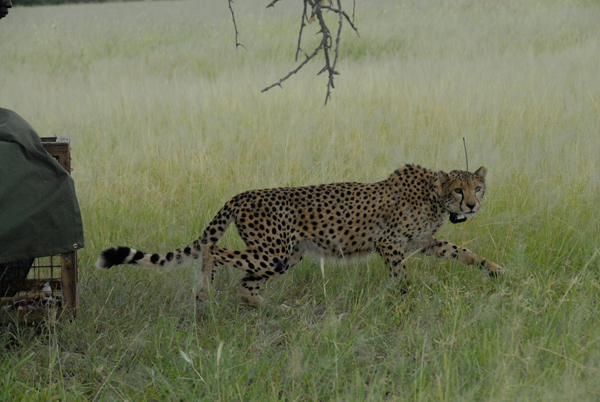 An adult cheetah, which had been smuggled and abused for the illegal pet trade, returns to the wild in Tanzania. Photo by: Annette Simonson.
Few people realize that cheetah's, one of Africa's great cats, are a target of the global wildlife trade. Yet these speedy predators are sought as exotic 'pets', especially in the Middle East.
As apart of this illegal pet trade, three adult cheetahs were recently seized at a residence in Tanzania's capital, Arusha. According to a press release from the Zoological Society of London (ZSL), the cheetah's were being held in cages so low they could barely stand. ZSL worked with the Frankfurt Zoological Society (FZS), the Wildlife Conservation Society (WCS), the Tanzania Wildlife Research Institute (TAWIRI), and the Tanzania Wildlife Division to secure the release of the cheetahs and then re-released them back into the wild at Tarangire National Park.
Satellite collars were fitted to two of the three cheetahs (including the one photographed) so they could be tracked by researchers.
"This is the first known case of cheetah trafficking in Tanzania and it worryingly suggests that the illegal trade of this protected species is increasing," said Dr Sarah Durant of ZSL and WCS in a press release. "We hope the plight of these three cheetahs will raise awareness of the demand for big cats as pets in places such as the Middle East, and encourage increased law-enforcement at key trading hubs."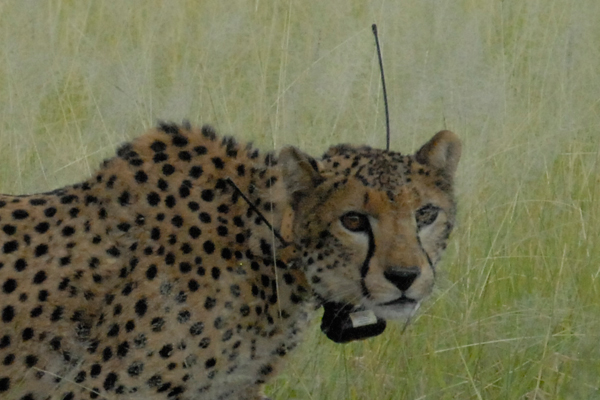 The cheetah has been fitted with a satellite collar as seen in this close-up. Photo by: Annette Simonson.