Girl Scouts fighting palm oil receive wider media coverage (video)
After five years of campaigning, two Girl Scouts fighting palm oil in Girl Scout cookies are receiving wider media coverage this week after meeting with heads of Girl Scouts of the US. The organization has now agreed to research different options, such as sustainably-grown palm oil or using another ingredient, reports the Wall Street Journal. Above, the Girl Scout activists are interviewed on the CBS Early Show.
For more information:
Girls Scouts censors Facebook page after coming under criticism for product linked to rainforest loss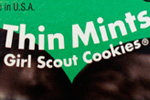 (05/04/2011) Girls Scouts USA has censored its Facebook page after receiving comments criticizing the organization, according to Rainforest Action Network (RAN). RAN along with Change.org and two Girl Scout activists, Rhiannon Tomtishen and Madison Vorva, declared today a social media day of activism against the Girl Scouts for using palm oil in their popular cookies. The oil has been linked to rainforest destruction in Indonesia and Malaysia.
Avon commits to greener palm oil

(04/15/2011) The beauty products giant Avon will purchase enough GreenPalm certificates to meet 100 percent of its palm oil use.
KFC dumps palm oil due to health, environmental concerns

(04/08/2011) KFC Corporation, the fast food giant, will stop using palm oil in its deep friers, reports The Independent.