Connecting the climate dots (video)
This video is based on an op-ed by Bill McKibben, author and founder of 350.org, with narration and illustration by Stephen Thomson of Plomomedia.com.
To see additional coverage of the connections between climate change and extreme weather:
Burning up: warmer world means the rise of megafires

(05/12/2011) Megafires are likely both worsened by and contributing to global climate change, according to a new United Nations report. In the tropic, deforestation is playing a major role in creating giant, unprecedented fires.
Are US floods, fires linked to climate change?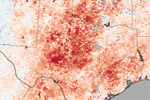 (04/28/2011) The short answer to the question of whether or not on-going floods in the US Midwest and fires in Texas are linked to a warming Earth is: maybe. The long answer, however, is that while it is difficult—some argue impossible—for scientists to link a single extreme weather event to climate change, climate models have long shown that extreme weather events will both intensify and become more frequent as the world continues to heat up. In other words, the probability of such extreme events increases along with global average temperature.
Numerous causes, including climate change, behind record food prices

(02/07/2011) Food prices hit a record high in January according to the UN's Food and Agriculture Organization (FAO), threatening the world's poor. Rising 3.4% since December, the FAO stated that prices reached the highest point since the agency began tracking food prices in 1990. Given the complexity of world markets and agriculture, experts have pointed to a number of reasons behind the rise including rising meat and dairy consumption, the commodity boom, fresh water scarcity, soil erosion, biofuels, growing human population, and a warming world that has exacerbated extreme weather events like last year's heatwave in Russia.
Two massive droughts evidence that climate change is 'playing Russian roulette' with Amazon

(02/03/2011) In 2005 the Amazon rainforest underwent a massive drought that was labeled a one-in-100 year event. The subsequent die-off of trees from the drought released 5 billion tons of CO2. Just five years later another major drought struck. The 2010 drought, which desiccated entire rivers, may have been even worse according to a new study in Science, adding on-the-ground evidence to fears that climate change may inevitably transform the world's greatest rainforest.