Activism: funds needed to replant forest for nearly-extinct loris
Note: as a news organization mongabay.com does not endorse the action below, but believes its readers may be interested in taking action or discussing the issue in comments.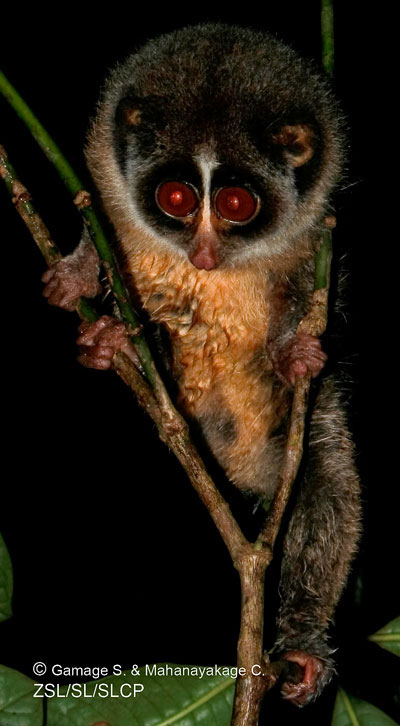 Horton Plains slender loris. Photo courtesy of EDGE.
Researchers estimate that only 80 Horton Plains slender loris (Loris tardigradus nycticeboides) survive in the world. After believed to be extinct ZSL EDGE rediscovered the subspecies in a dwindling Sri Lanka forest in 2009. Now EDGE is working to raise money to fund reforestation of a vital corridor for the Horton Plains slender loris. Already, the loris has lost 80% of its habitat.
From the EDGE blog: "This project will not only benefit the endangered loris, but also a host of other species found within the threatened montane forest environment such as the leopard (Panthera pardus kotiya), the 'shaggy bear monkey' (Trachypithecus vetulus monticola), the endemic Nillu rat (Rattus montanus), and the Sri Lanka spiny mouse (Mus ohiensis) amongst others."
To donate money to the project: Reforestation Project in Sri Lanka for Horton Plains slender loris.