'Wildlife storytelling' T-shirts benefit conservation projects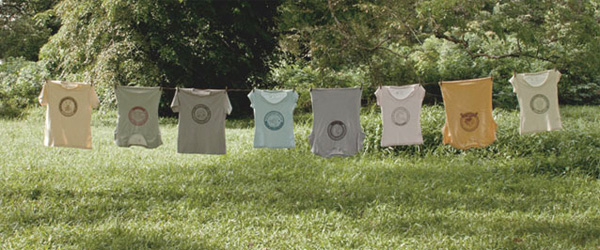 The The Tree Shirt House has launched a line of "wildlife storytelling" T-shirts made of 100% organic cotton. A portion of the proceeds from each shirt go toward various wildlife causes.
Mongabay asked a few questions of The Tree Shirt House's founders, Nicolas and Gabrielle.
1. What is your background and what led you to start your project?
Nicolas and I had the typical expat life until the day we decided we were ready to create our own project in relation to Nature. I guess we "lost" something on the way, being all gobbled up by work and our careers. We decided it was now or never to take a leap of faith by taking a year off from our lives to dedicate ourselves to building a place of our own: The Tree Shirt House. Tee-shirts are a wonderful way of expressing your personality & it's an effective message diffuser. So we went back to Nature and re-connected with our fondness of animals and developed a 100% a organic wildlife storytelling clothing concept. We did everything ourselves from the creation of the company and its logo, choosing the stories, the design of the prints & their cuts and we have kept footage of our progress to share the ongoing experience with our followers on our blog and our facebook page. Today with the Internet 2.0 generation, it's all about being viral so we decided to start The Tree Shirt House as an online store, accessible anywhere in the world to build a conscious & curious community of animal lovers and proud to wear them.
2. What are some of the beneficiaries?
Each one of our tees carry a story & a cause. When you buy a tee-shirt, USD5 of your purchase is donated to our partner charities. We operate with a full transparency policy as each end of the month we disclose how many tees have been sold and how much is being given to each charity on our blog. Our first collection, depicts 8 wildlife stories for which each one has a dedicated project. All of our causes are detailed on our website (http://www.thetreeshirthouse.com/the-store) so that we may diffuse our stories & the wonderful work some people are doing to make the world a better place. Our beneficiaries include The Saola Working Group, Free The Bears, Tree Foundation, Harapan Rainforest, Seal Alert, ACRES and the Harrison Institute. We have exchanged with some of the world experts of certain species to help us along our journeys and we will be providing further interviews on our blog to add some flavor to the causes. It's all about sharing & being interactive. There is in fact one last partnership in need of being established for the rabbit tee-shirt, if you check the rabbits page you will see we are asking people to suggest us projects to whom we should donate in case you have any ideas.
3. Are your shirts made from eco-friendly materials?
We have produced our 100% organic cotton & water based ink tee-shirt line in India in a work place, which reflects the values we believe in. Our manufacturer is compliant with FairTrade & Global Organic Textile Standard (GOTS). Indeed, our choices have always been focused on trying to make the "least damaging" choices for the environment. Our packaging is fun & raw, it was all about wrapping the tee up in something that you could re-use to get people to realize that you don't have to throw everything away, sometimes we can re-use. All the paper & cardboard were sourced from the recycling industry. We have been very attentive to apply a socially responsible manufacturing process and are hoping to push it further as time goes by.